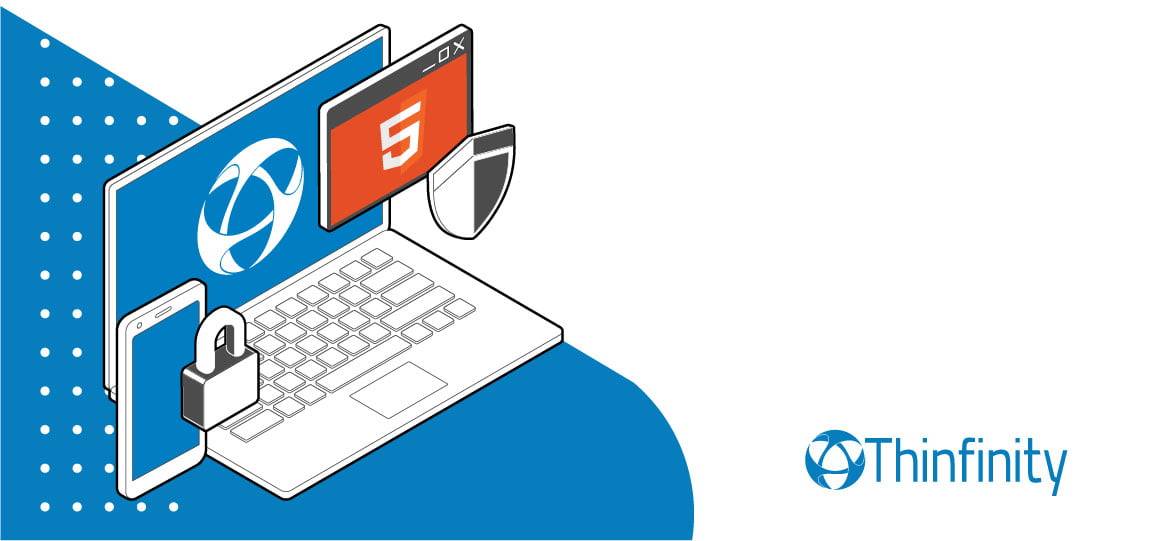 So here is the problem.  Your users still need access to your company's intranet sites and internal web applications while working from remote workspaces.  The provisional solution until recently has been VPN, which is irksome to deploy and opens your network to exploitable vulnerabilities.   Why connect your users to the corporate LAN when all they need is to access a URL?  Thinfinity is the new permanent solution to this conundrum.
The principle of least privilege security
With the proliferation of cyber threats today from an increasing number of global threat actors, it's more important than ever to enact the principle of least privilege (PoLP) across your IT estate.
PoLP states that users should be allotted minimum levels of access to perform their job functions.  So why give remote users direct connection access to your entire corporate LAN? All they need is to pull up a company intranet web page or a single web application.
Using the Web VPN feature of Thinfinity, users no longer need to obtain a VPN connection.  Now their access can be limited to the specific intranet web assets that you specify.
Clientless VPN access means fewer problems and maintenance
Internal IT departments are stretched enough as it is today.  The last thing they need is another client app to support.  Unlike VPN solutions that require the deployment of a client app that must then be supported, maintained, and updated, the Web VPN feature of Thinfinity doesn't require a client.  In fact, there is nothing to install.  Simply whitelist the domain(s) you need to provide access to, and it will securely forward this connection to the end user's HTML5 browser.

Escape the problematic nature of VPN
There are a lot of moving parts within a VPN solution.  There is the VPN server and the installed local VPN app that is required on each client.  Then there are multiple protocols that must function correctly together.  The connected VPN clients must then obtain an IP address from the corporate network and there can be multiple firewalls and access lists to contend with across the connection.
Thinfinity is simple.
Users only require an HTML browser on their internet-connected device using simple web access. If your users can access the web, they can access anything hosted within your company's internal domain. It really is that simple.
Reduce the threat of hackers and external threat actors
Why do hackers actively target company VPN systems?  Because once a VPN is compromised, an outside attacker now has potential access to your entire IT estate. This includes servers and your file storage repositories.  A compromised VPN connection is an open door into your network!
With Thinfinity, you can be assured that those doors remain locked. No additional ports are required to access internal resources using Thinfinity.
The days of Legacy VPN are over
Security and simplicity can exist in one package.  With Thinfinity, burdensome VPN solutions are a thing of the past.  Our new web-based VPN has no client to install or maintain, so there's no dependency. Remote users can easily attain access to the published applications and websites that are only accessible from within the internal domain itself.
Whether it's an intranet website, an internal ERP solution, or an internally hosted web application, your users will be able to easily access them, while also abiding by least privilege security standards.
 Thinfinity® Workspace grants you VPN-like access, without the hassle of a traditional VPN.
Would you like to evaluate this Clientless VPN alternative for free for 30 days?
Have any questions?
Book a call today to learn more about how Thinfinity can help your organization. We are always available to guide you and provide the best solution based on your specific needs.