Cybele Software takes its versatile Thinfinity® Workspace to another level, adding significant value with this revolutionary release.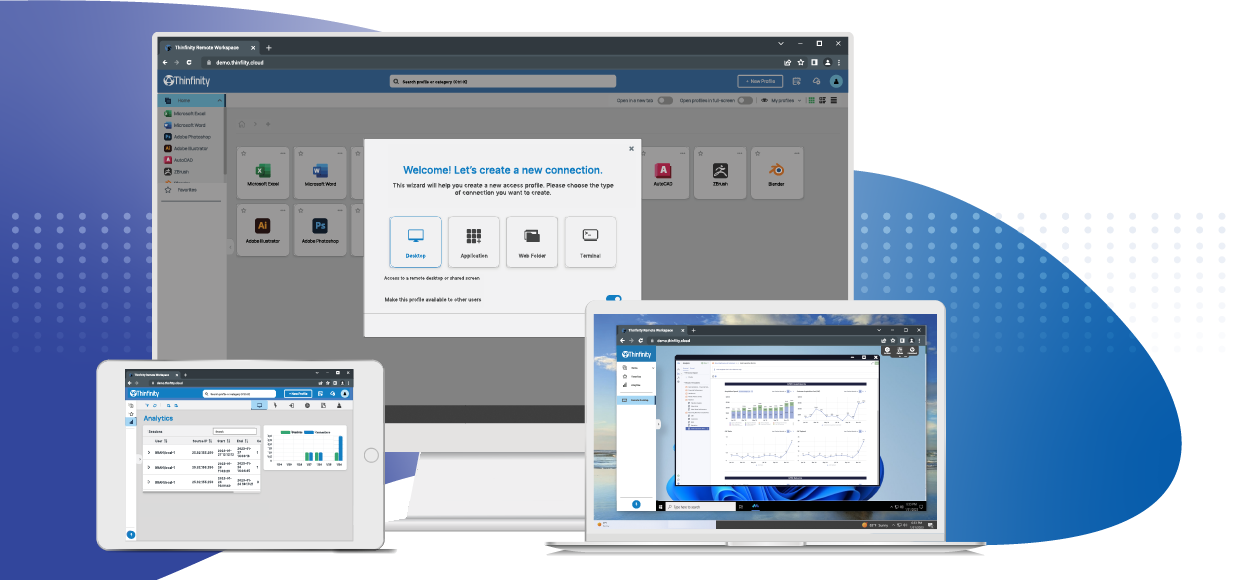 Wilmington, DE (April 19, 2023)—  Cybele Software, Inc. is very excited to announce a significant new release of its flagship product, Thinfinity Workspace 7.0. Thinfinity Workspace has always been a powerful product, helping many organizations to provide their employees with a way to remotely access resources such as enterprise applications, desktops, and files. This iteration, built with Progressive Web App (PWA) technology, takes ease of use and features to the next level with a totally redesigned user interface (UX), new user analytics functions, added HTML5 terminal emulation capabilities, and the full integration of some of Cybele's most powerful products: Thinfinity VNC, Thinfinity VirtualUI, and z/Scope.
"We believe that our new Workplace 7.0 release represents an unsurpassed value to IT departments that need to allocate their budgets for solutions that offer the best cost-to-benefit ratio. The incorporation of our VNC technology, VirtualUI, and z/Scope means organizations now get the benefits of all four products in one cost-effective and adaptable solution. 
And the ease of use of our new user interface means individuals are immediately productive and aren't taxing valuable support resources. We think our new Thinfinity Workplace 7.0 is truly the best-in-class solution." —says Gustavo Ricardi, Founder and CEO of Cybele Software.
Focusing on the user experience was an important goal for this new release. Thinfinity Workspace 7 UX was redesigned to increase productivity and efficiency with a fully-customizable and intuitive modern interface. A new responsive sidebar was incorporated that changes to display the most relevant options. This, plus the collapsible menu structure and the ability of the user to "pin" their own sidebar options, provide a customizable environment that does not overwhelm the user and helps them to focus on what is important.
New enterprise-grade audit logs enable the monitoring and tracking of user logins, sessions, and connections. This can be valuable data for resource allocation decisions. The logs can also play an important role in security and compliance management. Additionally, API integration with Enterprise Security Information and Event Management (SIEM) software is possible to provide real-time monitoring and analysis of security events to quickly detect, alert, and respond to potential threats.
With the goal of offering the widest interface options and support for legacy applications, Thinfinity Workspace now includes HTML5 terminal emulation technology from our z/Scope solution, providing secure connections to any enterprise-class host system. This includes support for DEC terminals (VT100, VT220, VT320, and VT420), the TN 5220 protocol for connecting with AS/400 systems (IBM iSeries), and TN 3270 emulation for IBM mainframes (zSeries). Advanced features such as print redirection and macro support are provided. Connecting with these systems has now become easier than ever, all within the Thinfinity Workspace.
Incorporating the proprietary VNC protocol from Thinfinity VNC, Thinfinity Workspace has become an ideal solution for on-demand support in enterprise environments for providing real-time monitoring, configuring, and troubleshooting of applications. VNC technology allows for a fast and smooth browser screen-sharing experience, minimizing latency issues, including mouse pointer delays. It supports the latest security standards, including SSL VPNs such as those from Cisco and Juniper.
Adding to its versatility, Thinfinity Workspace has integrated the power of Thinfinity VirtualUI. Over the years, many Independent Software Vendors (ISVs) have turned to VirtualUI to provide a means to transform their legacy desktop applications into web-based applications to cater to the modern consumer. But many companies and organizations also have custom legacy desktop applications that are still in use. Now they can be easily accessed through Thinfinity Workspace. The technology only requires the addition of a single line of code.
Thinfinity Workspace 7.0 expanded functionality builds upon an already strong foundation of its previous version. So, features like the VDI Manager, Resource Reservation, multi-monitor support, etc. are all still present and working together with the new features to ensure Thinfinity Workspace can increase productivity, improve client satisfaction, reduce costs, enhance security, and better manage organizational resources. Explore all the features and functions further by visiting  https://www.cybelesoft.com/thinfinity/remote-workspace. 
Understanding that customer requirements can vary from client to client and project to project, Cybele Software is always eager to provide answers and solutions that meet the individual client's needs. Contact Cybele Software, Inc. to schedule a call with a specialist who will do their best to help you achieve your goals.
Requirements: For requirements specifications, visit https://www.cybelesoft.com/thinfinity/remote-workspace/requirements