QuickBooks® is one of the most used accounting applications by small and medium-sized businesses. However, businesses struggle to provide a reliable and cost effective solution for remote access to the desktop version. Learn how you can solve this by publishing QuickBooks with Thinfinity® Remote Workspace.
QuickBooks is a software widely used by SMEs or SMBs to manage income and expenses and keep track of the financial health of their business. Although there is an online version of QuickBooks, it does not have as many functionalities or features as the desktop version. For businesses with complex job-costing requirements, the online version is not an option; thus, webifying the fully featured Desktop edition becomes necessary.
As complex as it seems, this challenge can be easily solved by publishing a RemoteApp with Thinfinity® Workspace, our all-in-one solution for application and desktop delivery. To comply with QuickBooks requirements, Thinfinity® Workspace includes seamless support for remote printing, barcode and scanner, file transfer, and directory sharing to provide the best remote experience with no compromises.
*QuickBooks is a registered trademark of Intuit Inc.
What is a RemoteApp?
RemoteApp is a feature that allows individual programs to run remotely using a Remote Desktop Client. Instead of accessing the entire remote desktop, RemoteApp allows users to see and interact with just the application as if they were running on the end user's device.
You don't need to have any programming skills or make any modifications to the Windows application source code to accomplish it.
How to publish a RemoteApp with Thinfinity Remote Workspace?
Thinfinity® Workspace is the first integrated solution to access applications, desktops, and data, from a unified portal. You can enable remote access to all your apps, desktops, and files on any device.
Installing it for the first time is pretty simple. There are just a few items you have to take into account. You can check the Thinfinity Workspace's installation steps here.
Once you complete the installation process, log in to Thinfinity. Go to the index page and click "New" to get started.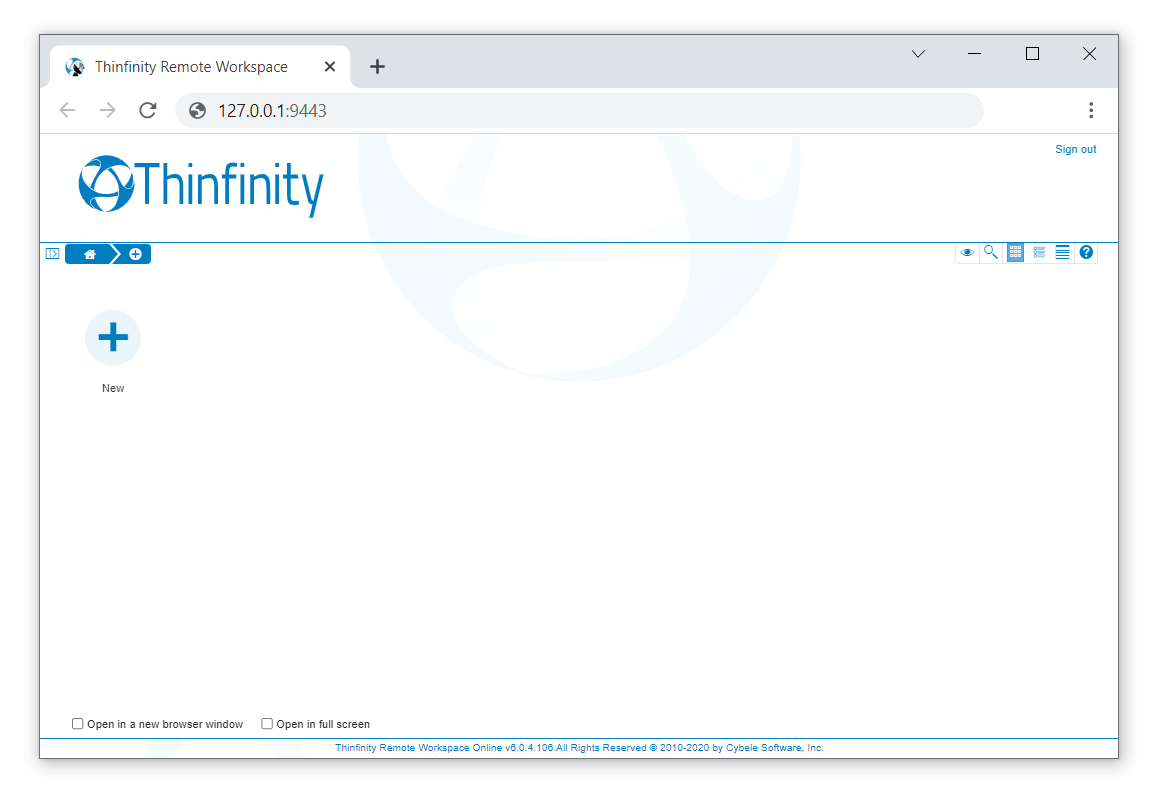 First, you'll need to select the type of connection you want to create. To create a Remote App profile, select "Application" and click "Next".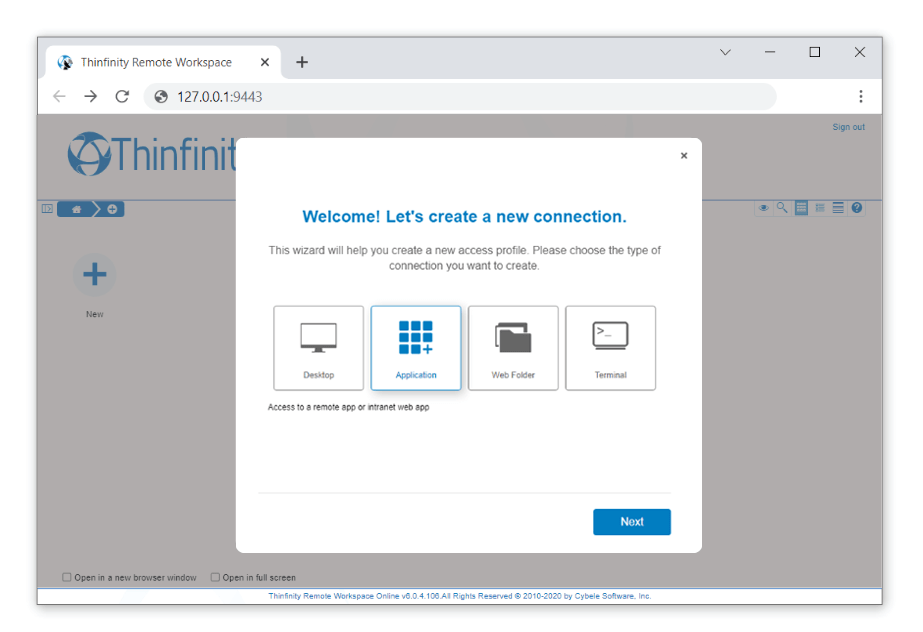 Now select the "RemoteApp" option and click Next.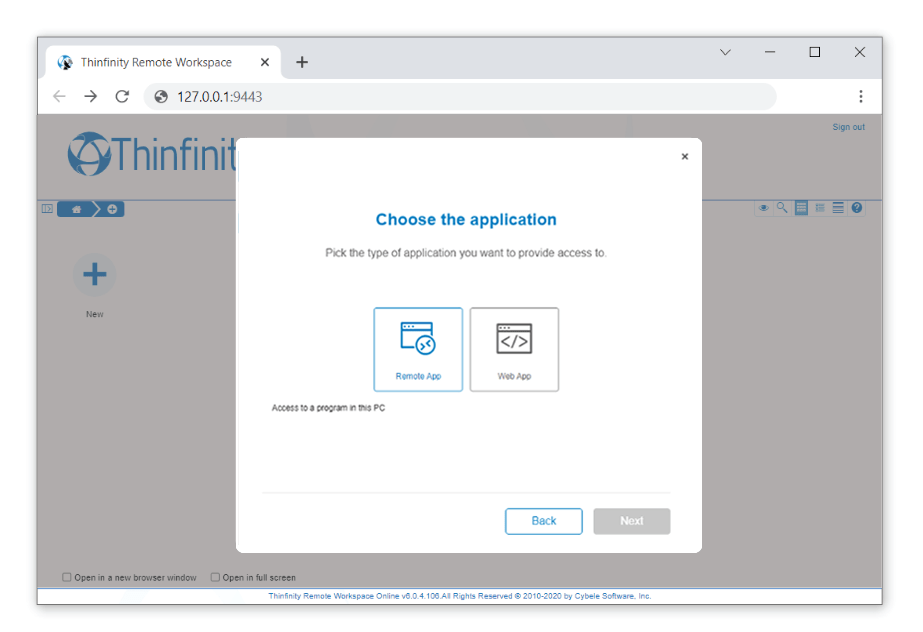 If you are looking to deliver QuickBooks to your localhost, select 'This PC'. However, if your QuickBooks app is located on a different device, select 'Another PC'. In this sample, we'll be selecting 'This PC'.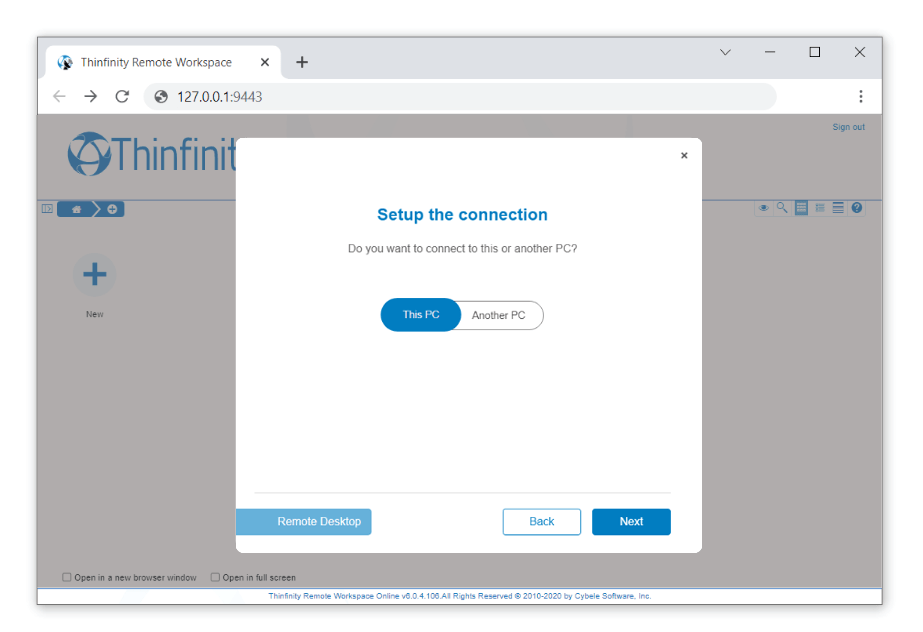 Now specify the program path and filename. For QuickBooks Enterprise, it should look something like this:
"C:\Program Files\Intuit\QuickBooks Enterprise Solutions 22.0\QBWEntepriseWholesale.exe"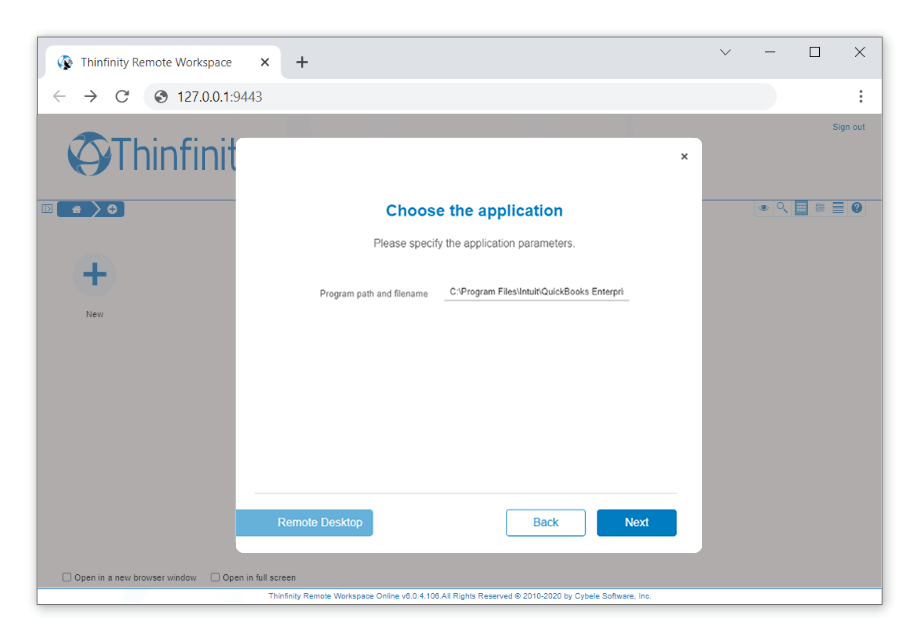 Next up, you'll be prompted to select the type of authentication mode you want to use for this connection. In this case, we are going to select "Use Credentials" and create a username and  password.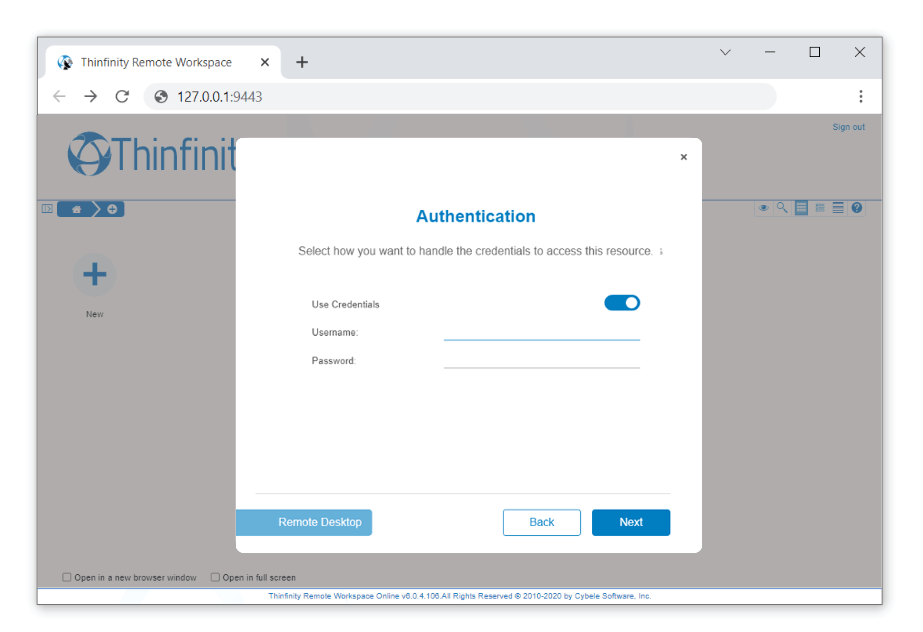 Now, specify the profile name and icon for your Remote App and hit 'Done':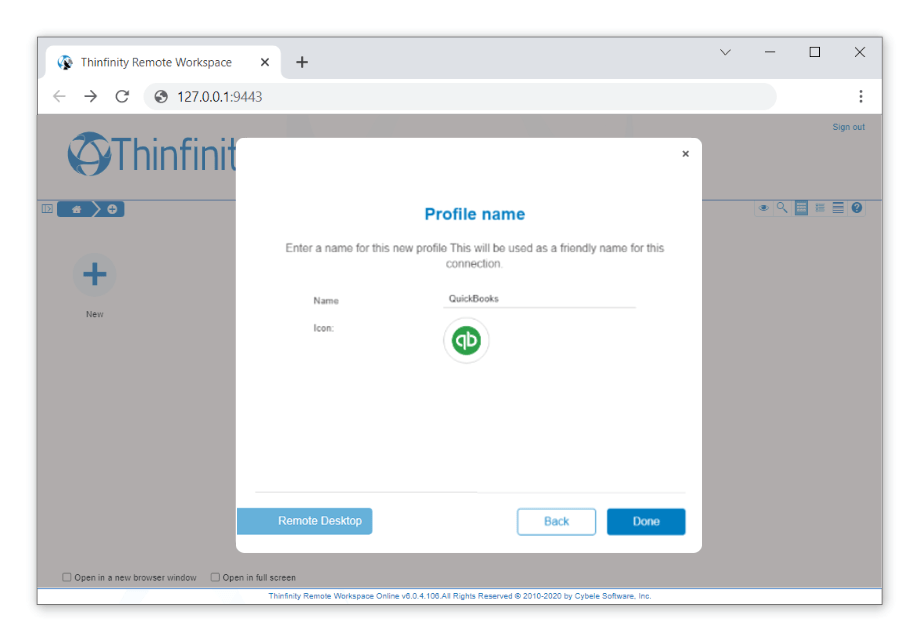 Finally, click on 'Commit' to finish setting up your RemoteApp connection: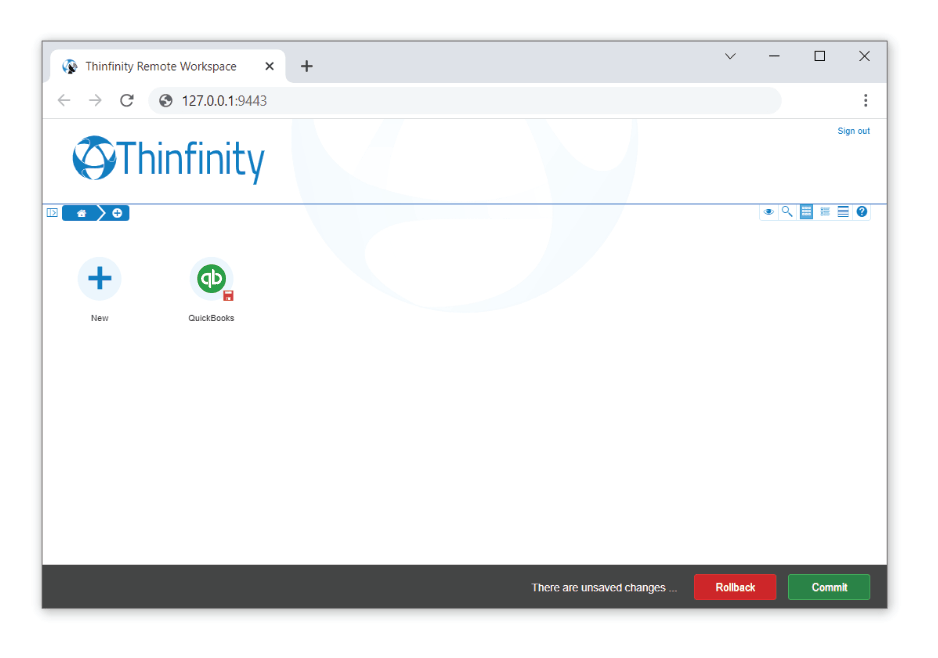 You can now use QuickBooks on a browser via Thinfinity Remote Workspace!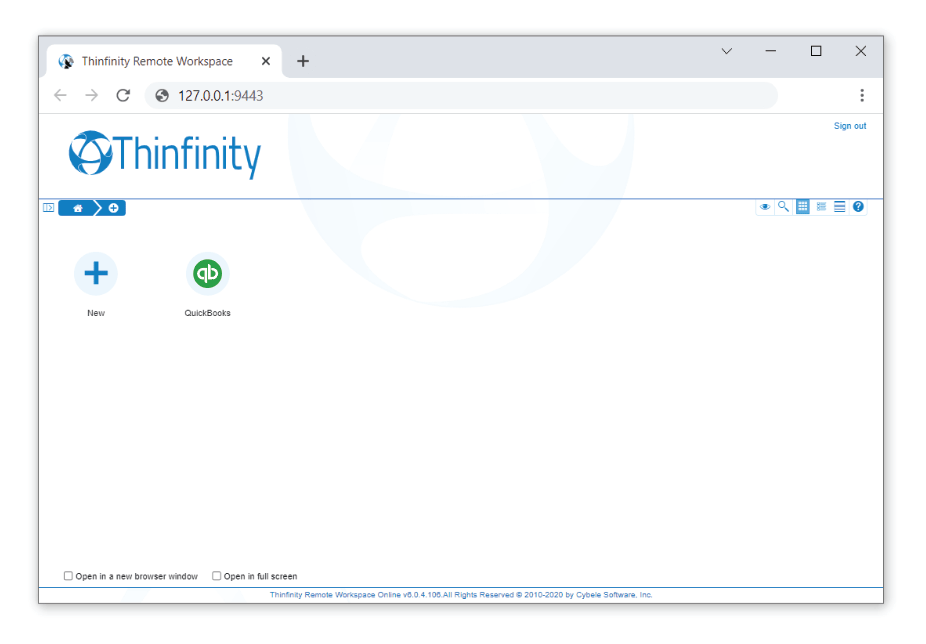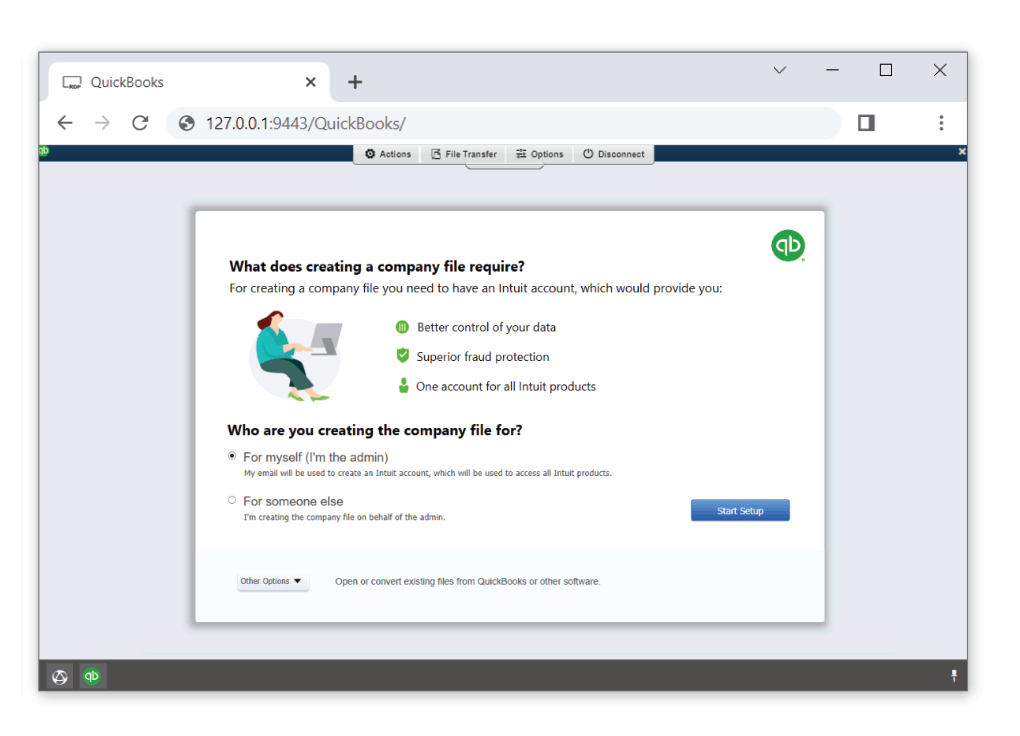 If you found this article interesting and want to know more about Thinfinity® Workspace, you can contact us or schedule a 15-minute demo call with one of our Sales Engineers.