Run desktop applications in a web browser, in minutes!
Thinfinity® VirtualUI™ enables Windows-based apps to be delivered as cross-browser, cross-device web applications, without the need for expensive virtualization or remoting environments. These applications can be run on a Windows environment, or be accessed remotely from any HTML5 Web browser.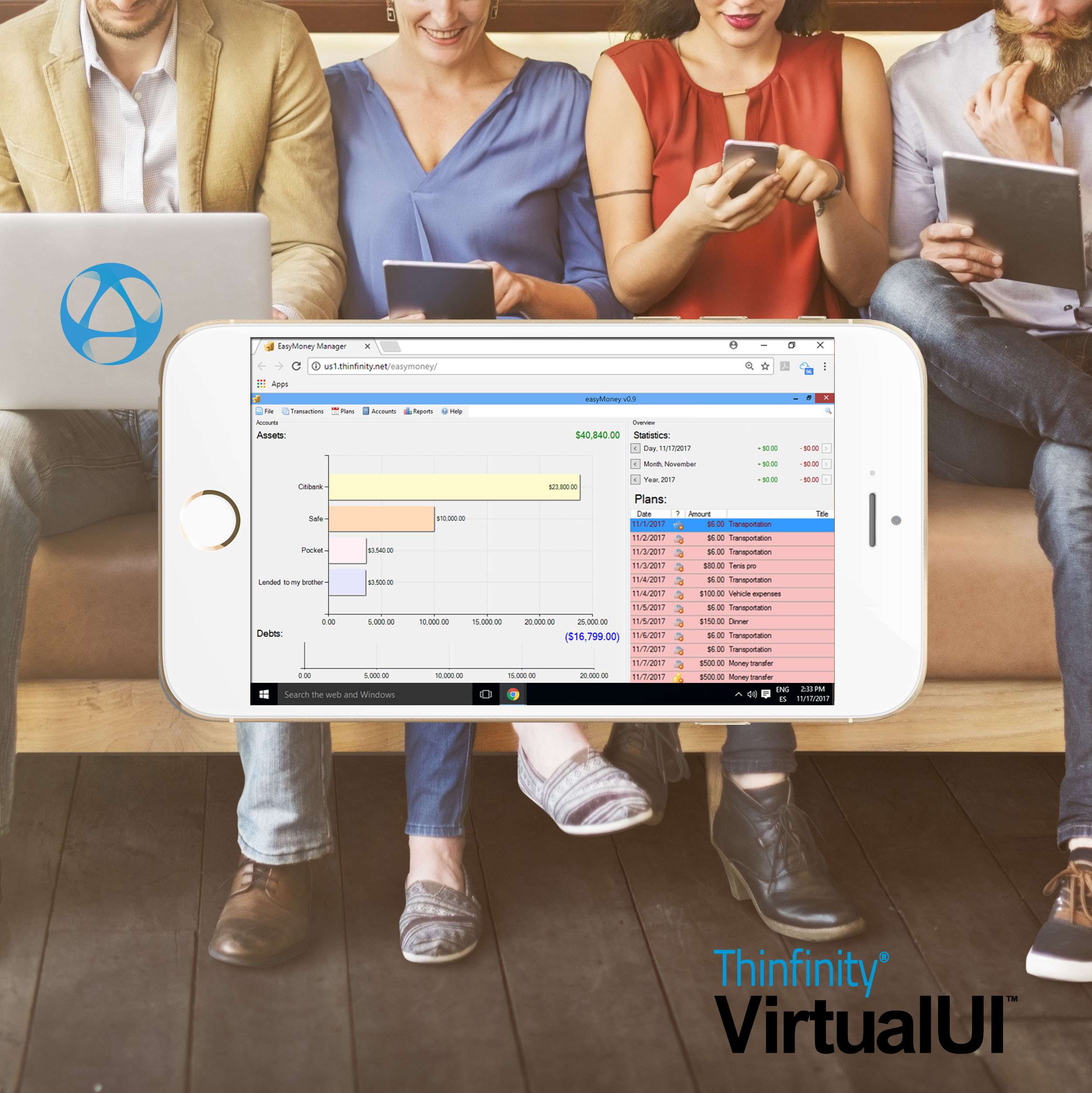 After a long beta period, when we announced the formal release of Thinfinity® VirtualUI™, the general reception was remarkable. We truly appreciate all the questions and feedback we received! Your overall response was beyond our wildest dreams.
We also wanted to clarify some lingering doubts we noticed from comments about Thinfinity® VirtualUI™, while at the same time pointing out a few reasons why we believe every Developer should not only try but definitely adopt this Windows-to-Web solution in their projects.

Why should you adopt Thinfinity VirtualUI to web-enable your App?
1. It's affordable in time and cost! You can web-enable your App in minutes for less than $150. Free 30-day trial available.
2. It's incredibly easy and quick to use. Enabling Thinfinity® VirtualUI™ in your application's project is extremely simple. Just add one line of code to your source code, and convert your desktop app to web app with Thinfinity VirtualUI.
3. The app will run unaltered under normal circumstances. You can deploy your app as usual and no one will notice any difference -the code you added is dead code in a normal scenario.
4. Your application will gain a huge value with no extra work! With Thinfinity® VirtualUI™, under the right scenario, it can be remoted to a web browser and accessed virtually from almost any device! Shouldn't this new ability bring you more customers?
5. What do you have to lose? Try it… you'll adopt it! Check the VirtualUI starting guide here.

Try it and you'll adopt it!
We strongly believe that adopting Thinfinity® VirtualUI™ will be to your benefit: your application not only will run unaltered but will be also available to more users and customers with no extra cost on your side. It's nothing but pure benefit for you!
Additionally, you can also work with the Javascript Remote Objects (jsRO) framework that offers full integration of your new Windows-based apps into any kind of web application. The use of a jsRO allows you to customize the look & feel of the old app to run under the browser as a new, refreshed application. You can change menus, and screen options, and even combine them with available web and multimedia resources.
Learn how to install Thifnity VirtualUI and start your trial today!
More about Thinfinity VirtualUI
For technical questions, please contact us ([email protected]) or refer to our online documentation.
Product Page:https://www.cybelesoft.com/Thinfinity/VirtualUI/
Press Release: https://www.cybelesoft.com/blog/press-release-windows-apps-reach-a-new-level-with-gui-virtualization-and-web-integration-meet-thinfinity-virtualuitm/
White paper: https://www.cybelesoft.com/docs/thinfinity_virtualui_whitepaper.pdf
Online manual: https://thinfinity-vui-v3-docs.cybelesoft.com/
f