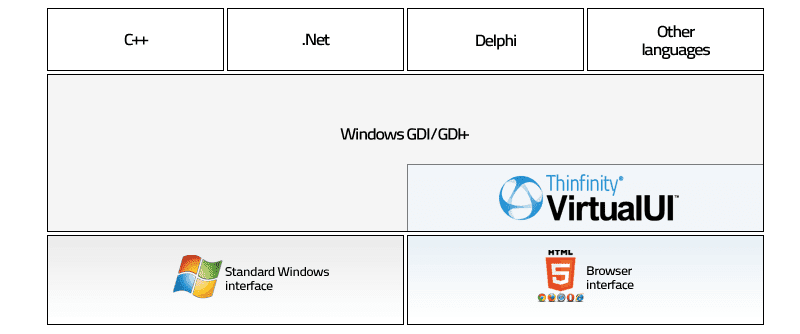 Thinfinity VirtualUI - Kickstarter Campaign
We have just launched our Thinfinity® VirtualUI™ campaign on Kickstarter!
We launched this campaign with two goals in mind: 1) to venture into an alternative advertising channel we have never explored before, and 2) as a pre-sale window -that is, to offer the possibility of obtaining Thinfinity® VirtualUI™ at a deeply discounted price.
Please check out our campaign, and pledge, and help us promote it by sharing it with friends and others!
Thank you in advance for your support!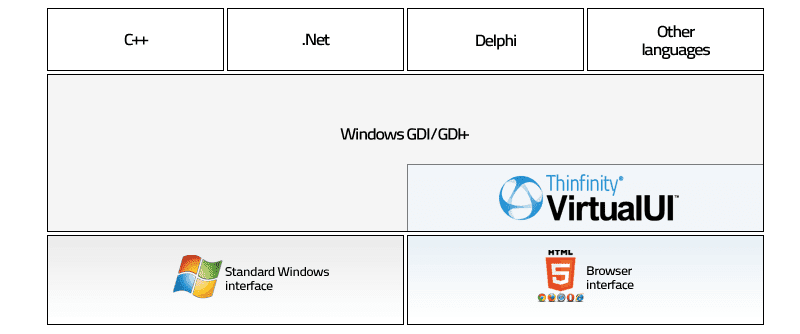 What is Thinfinity® VirtualUI™?
Thinfinity® VirtualUI™ is a software solution that enables developers to instantly take to the web existing Windows applications. By adding one line of code to the application's project, you can transform your Windows application into a Web one, enabling it to run as usual on Windows or remotely from any modern Web browser.
Web-enable existing applications
Thinfinity® VirtualUI™ can cost-effectively connect your application via an HTML5-compliant Web browser to users without unnecessarily abandoning the application's current user interface.
Integrate Web and Windows applications
Thinfinity® VirtualUI™ allows you to embed a remote Windows application within a standard Web application, allowing a 2-way interaction with Javascript programming.
Instantly upgrade and extend the lifespan of Legacy applications
Thinfinity® VirtualUI™ is perfect for those legacy applications that a developer still wants to offer by instantly upgrading and modernizing them. Any Windows application with source code available to be recompiled that uses Microsoft Windows Win32 GDI/GDI+/DirectX calls and can interface with an ActiveX library will be a potential candidate for its use. Typically, it will work for .NET WinForms apps, old Visual Basic apps, Delphi VCL apps, C#, C++ MFC apps, etc.
Expand applications' availability
Run your applications on Windows machines as usual.  Install them on a Thinfinity® VirtualUI™ Server environment and access them remotely from any HTML5-compliant Web browser. Check the user manual.
Get Thinfinity VirtualUI:
For more information about Thinfinity™ Virtual UI, contact Cybele Software, Inc.
3422 Old Capitol Trail, Suite 1125
Wilmington, DE – 19808, USA.
Phone: (302) 892-9625 or (866) 462-9768 (USA & Canada)
Email: [email protected]
Website: www.cybelesoft.com