The very old and good ThinRDP (Server/Workstation), one of the first web remote access solutions we brought to the market ages ago, will never leave our hearts.
ThinRDP was simple, yet powerful. It provided a browser-based client for Microsoft's RDP tool that all our customers loved. As the HTML5 technology evolved to cover more and more capabilities to remoting tools, so did ThinRDP.

Our "thin" RDP solution for Remote Desktop management has now become "Thinfinity Remote Desktop". The name has changed, but all its features are still there:
Windows Terminal Services applications and desktops access
Virtual desktops or applications access (RDS/VDI platforms)
Single entry point for web-based RDP access to all LAN PCs
Application publishing and more…
If you came here looking for ThinRDP Server, you should try out "Thinfinity Remote Desktop" for free during 30 days.
Instead, if you came here looking for the ThinRDP Workstation edition, you will find that the new Thinfinity VNC is a simple, but powerful browser remote access client to access a single workstation. It was designed to fulfill the needs of small companies, and single users. It also covers other special scenarios where a complex, fully-featured Server deployment is not required.
Install Thinfinity VNC now and enjoy web remote access to your PC wherever you go!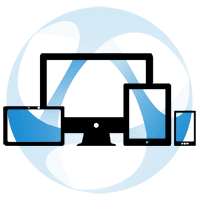 Thinfinity Solutions
As you already know, Thinfinity VirtualUI is a web-enabling SDK to run apps on a browser without rewriting the code. On the other hand, Thinfinity Remote Desktop is a remote access, desktop delivery and app publishing solution.
Explore our remoting and web-enabling solutions, enjoy our free trials, or request a custom demo HERE. No commitment!
We will be happy to assist you and show you our portfolio for remote desktop, screen sharing, digital workspace, and application virtualization.