Thinfinity® VirtualUI is a Web enabling SDK that delivers your Windows apps on any device, anywhere.
All with a single line of code.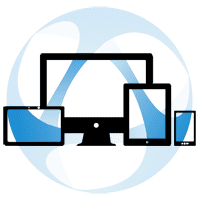 Take your Windows applications to the web, Instantly
As users are migrating from traditional desktop computers to mobile devices, transitioning your Windows application to the Web is the next logical step to increase your exposure. You can make your Windows applications accessible from the Web TODAY.
Furthermore, you may enhance your existing applications with online data, rejuvenate your older software, and deliver your application anywhere in the world, all with Thinfinity® VirtualUI.

Transform Your Application with No Effort
When publishing to the Web, sometimes data needs to be visually arranged in a new pattern, different from the way it is presented to the user in the desktop application. Or maybe the interface needs to be replaced or enhanced to better accommodate the new devices it can now be accessed from, for adequate functionality and integration.
Usually, the urge of going beyond simple cosmetic changes also appears. One may wish to combine the application with native web resources, such as personalized web searches, multimedia resources, specialized information and data, and the like.
With small touches here and there, Thinfinity® VirtualUI can transform the look and feel of your traditional application to offer your users a brand new experience.
Unlock the Power of jsRO!
Javascript Remote Objects (jsRO) is a framework designed to facilitate these and many other possible scenarios, by allowing bidirectional communication between a web page or application and a Windows application. But, most importantly, to make that blending with the greatest possible transparency.
The key point is that jsRO enables the creation of objects in a Windows application that can be replicated in the browser as native Javascript objects. Every pair of objects is kept in sync with each other on both ends of the communication and behaves as the same entity. This synchronization ensures bidirectional interaction, therefore immediately replicating changes in the jsRO objects' properties, both on the browser and the Windows application.
We have prepared some tutorial articles for our fellow developers regarding Windows and Web integration through Thinfinity® jsRO:
Need more insights? Take a look at our 11 tips to Adapt PC Desktop Applications to Mobile Devices article to discover how VirtualUI can transform your Windows applications.
Now You're Ready to Start!
Thinfinity® VirtualUI is designed to have a straightforward implementation. Installation and setup will only take a couple of minutes before you can enjoy access to your desktop application from a browser in a pure HTML5 interface.
Review our Thinfinity® VirtualUI Guide for a Smooth First Time User Experience and contact us if you have any questions or need some guidance about the best way to take your application to the Web.
Documentation:
Product Page: https://www.cybelesoft.com/thinfinity/virtualui/
White paper: https://www.cybelesoft.com/docs/thinfinity_virtualui_whitepaper.pdf
CodeProject Article: https://www.codeproject.com/Articles/1136872/Instantly-Increase-the-Value-of-your-Windows-Appli
Online manual: https://thinfinity-vui-v3-docs.cybelesoft.com/
Contact us:
Phone: (302) 892-9625 or (866) 462-9768 (USA & Canada)
Email: [email protected]