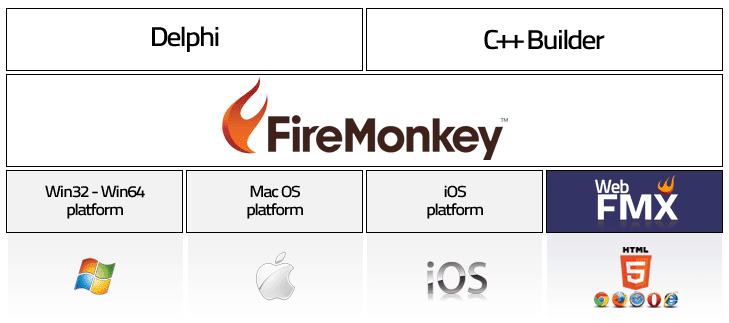 Quickly turn any FireMonkey HD project into a dual-platform solution for Windows and HTML5.
WILMINGTON, DE, May 7, 2013—Cybele Software, Inc. announces its production release of WebFMX 1.0, the premier web remoting solution that enables applications built with the Delphi FireMonkey framework to be accessed from anywhere and with any device.
WebFMX enables streamlined, time-critical project deployments. With WebFMX, developers can create dual-platform Windows/HTML5 applications by adding only one line of code to their existing FireMonkey projects. With WebFMX 1.0, these applications can be run as usual on a Windows environment, or installed on a WebFMX Server environment and be accessed remotely from any HTML5-compliant Web browser.
WebFMX leverages a single codebase and eliminates the need for costly virtualization solutions such as Citrix XenApp® or Microsoft RemoteApp™, slashing development and deployment costs.
With WebFMX 1.0, Cybele Software solidifies its standing as the leading innovator of remote software solutions.
WebFMX 1.0 Highlights
– Remotely print PDF files
– Open files on a remote machine
– Download remote files to a local machine
– Capture key browser information with the RemoteInfo object
– Manage app timeouts if the remote connection is lost
– MessageDialog and InputQuery implementation
– Flexible font modes (both WebFont and Bitmap font)
– Events to control resizing, termination, and web fonts
WebFMX 1.0 Requirements
Applications
– The application project must use the FireMonkey HD framework.
– Delphi XE3
WebFMX Server
– Windows XP 32-bit / Windows XP 64-bit
– Windows Vista 32-bit / Windows Vista 64-bit
– Windows 7 32-bit / Windows 7 64-bit
– Windows Server 2008 32-bit / Windows Server 2008 64-bit
Web Client
– HTML5-compliant Web Browser
UPDATE:
WebFMX v1.0 has been upgraded to Thinfinity® VirtualUI™.
Read more about the upgrade notice: WebFMX now becomes Thinfinity VirtualUI.
Read more about Thinfinity® VirtualUI™: by clicking here
Contact us to upgrade your old WebFMX license: [email protected]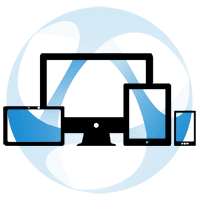 Thinfinity Solutions
As you already know, Thinfinity VirtualUI is a web-enabling SDK to run apps on a browser without rewriting the code.
Explore our other remoting and web-enabling solutions, enjoy our free trials, or request a custom demo HERE. No commitment!
We will be happy to assist you and show you our portfolio for remote desktop, screen sharing, digital workspace, and application virtualization.