Keep up to date with the Latest Product Versions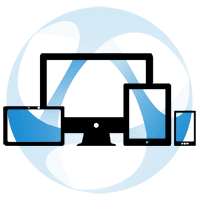 Are you looking for a software product that no longer exists?
Find below a table of old products and the closest current solution we can offer that covers the same need. For existing customers,  free updates/upgrades may be available. Please contact our Customer Care team to get some insight into the options available for your particular case. Click here to write to us, or book a call at your earliest convenience.

Products replacements
Cybele Software has always been a technology leader. Software programming evolves and people's needs change.
Some of our old remoting solutions used to require an installation on the client's computer; today all our remote access tools rely on HTML5 technology. In other cases, we decided to consolidate two similar apps so as to give our customers the comfort of a single setup with plenty of features.
These are the main reasons why some great remote PC applications we had in the past were discontinued or got merged into other solutions of our current Thinfinity product line.
Existing Customers: How to update your software version
Any Cybele Software customer covered by our Standard Support Service may update their current product version at any time. Upgrades are also available, you should get back in touch with our Customer Care team to get some insight into the available options.
Aside from our technical support service, surely the best part of renewing your license's maintenance is being eligible for the latest software updates and version upgrades at no extra cost.
Check out our download page or contact our technical support team to find out about your product's latest available version or to inquire about your license status.
You can also visit our Documentation page to find the available help files for current and discontinued products.
We hope you are able to take advantage of the latest features and enhancements by staying up to date with our latest product releases.
Need any help? Contact us:
Why Thinfinity?
Thinfinity VirtualUI is a web-enabling SDK that allows you to run apps on a browser without rewriting the code. On the other hand, Thinfinity Workspace covers the need for remote desktop access, desktop delivery, and app delivery.
Explore our remoting and web-enabling solutions, enjoy our free trials, or request a custom demo HERE. No commitment!
We will be happy to assist you and show you our portfolio for remote desktop, screen sharing, digital workspace, and application virtualization.