What's the difference between Thinfinity VirtualUI server license and Thinfinity Remote Desktop server license?
When you need to access a Windows app remotely, both solutions may work for you.
Thinfinity VirtualUI and the Remote Desktop server share some basic characteristics:
– require a Windows-based server and an HTML5 browser-based client
– allow you to publish a Windows app within a browser
– have a per concurrent user license
So when you require to give a web access solution for your software users, any of them would cover the need.
Which one should you choose? Take a look at the table to define the best Thinfinity choice for you:

Have any questions? Contact us at [email protected] or leave a message on this same post.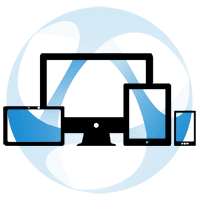 Thinfinity Solutions
As you already know, Thinfinity VirtualUI is a web-enabling SDK to run apps on a browser without rewriting the code. On the other hand, Thinfinity Remote Desktop is a remote access, desktop delivery, and app publishing solution.
Explore our remoting and web-enabling solutions, enjoy our free trials, or request a custom demo HERE. No commitment!
We will be happy to assist you and show you our portfolio for remote desktop, screen sharing, digital workspace, and application virtualization.