Web screen sharing & browser RDP client
Thinfinity® Remote Desktop now reunites all the HTML5 Screen Sharing features of the well-known ThinVNC, and the powerful browser Remote Desktop capabilities of the old ThinRDP Workstation on a single tool.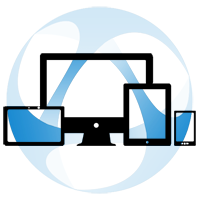 – Remote desktop control and screen sharing, all in one
– Remarkably simple to set up
You should definitely adopt our free clientless PC sharing & RDP client. It works on any browser. The setup is easy as a pie. The configuration has no big secrets, and we provide a step-by-step guide for non-tech users.
Select the RDP mode to enjoy full remote desktop access to your Windows programs, documents, and network resources. Or, select the VNC mode and start a desktop sharing session. Invite your mates to join in the remote session. They can even control your mouse and keyboard. The possibility of sharing a remote session makes the Workstation ideal for remote support and collaborative activities.
Web-based Screen Sharing and HTML5 Remote Desktop Technical Highlights
– It does not require ANY other setup on the end-user side (web browser)
– Works with all HTML5-compliant web browser
– Supported by Internet Explorer 9, Firefox, Chrome, Safari, and others
– Remote Printing
– Remote Audio
– File Transfer
– High-performance, firewall-friendly
– Compatible with 32-bit/64-bit versions of Windows editions
Thinfinity® Remote Desktop  it's a great tool for commercial or personal use. All major browsers support HTML5 technology nowadays. Any Windows, Mac OS X, Linux, Chromebook, Android, or iOS user can connect remotely to their Windows desktops through their favorite browser.
Meet the best web-based remote access solution… and remote into your Windows PC from any web browser.
Quick to install, easy to use, and free to enjoy!
Try it today!
Product page: https://www.cybelesoft.com/thinfinity/remote-desktop/
Review or Download the User Guide: https://www.cybelesoft.com/support/documentation/
Already a user? Feel free to share your feedback with us!