The stats are clear: there is a hacker attack every 39 seconds! More than 90% of breached records affect Government and retail or technology industries, but no industry is safe: all business sectors are affected to a higher or lower degree.
Half of the cyber attacks target small businesses. These companies have experienced web-based attacks (viruses, other malicious code, and botnets) and also phishing & social engineering attacks.
Average expenditures on cybercrime are increasing dramatically, and costs associated with these crimes can be crippling to companies that have not made cybersecurity part of their regular budget. Some experts estimate that the cost of the data breach in 2020 will exceed $150 million, as more business infrastructure gets connected.

Cybersecurity Costs
Cybercrime is not only costly but poses other problems as well for organizations worldwide.
It's becoming increasingly difficult to prevent massive virus infections and detect cyber attacks and resolve the security issues created by them. If a cybercriminal gains control over your computer, there's no telling if and how you may regain control over your device. Severe malware usually morphs and has a very low detection score, so basic antivirus solutions can't detect it. The average time to detect a malicious or criminal attack can be measured in weeks and even months.
Secure your Network
While an updated AV and good scanning tools can keep you safe from most viruses, user entry points are now the doors you need to secure the most.


As you probably know more than half of cybersecurity breaches involve weak or stolen credentials. That is why secure authentication methods are now a growing necessity for almost every web-based or cloud-based project.
Responding to this situation we decided to add support for Two Factor and MFA to our Thinfinity products and zScope Anywhere. Now you can add an extra layer of security to your project using the most popular providers on the market:
Okta Support
Azure
DUO 2FA Support
Forgerock OAuth 2.0 support
Is there any other MFA you would like us to support? Contact us or schedule a quick call with one of our Sales Engineers.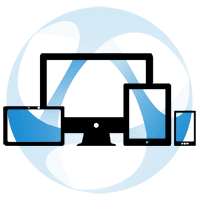 Thinfinity Solutions
As you already know, Thinfinity VirtualUI is a web-enabling SDK to run apps on a browser without rewriting the code. On the other hand, Thinfinity Remote Desktop is a remote access, desktop delivery, and app publishing solution.
Explore our remoting and web-enabling solutions, enjoy our free trials, or request a custom demo HERE. No commitment!
We will be happy to assist you and show you our portfolio for remote desktop, screen sharing, digital workspace, and application virtualization.