Web Services API for Thinfinity Remote Desktop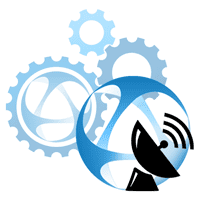 When we use the term "Integration", we are not just referring to Thinfinity Remote Desktop's ability to embed a remote display within a Web application. There are additional integration needs, like those related to resource management.
The Thinfinity Remote Desktop Web Services API permits third party applications to access and manipulate historical data, thereby remotely configuring Thinfinity Remote Desktop Server. This API consists of two Web services modules: Access Profiles —for account management— and Analytics —for statistical and analytical evaluation purposes.
The Web Services API
The API uses the SOAP protocol and the integration has to be done at a programming level. In order to consume the web services, the developer will need to develop or modify an application which will act as the Web Service requester by implementing the Thinfinity® Remote Desktop Server Web Service interface, available as a WSDL file.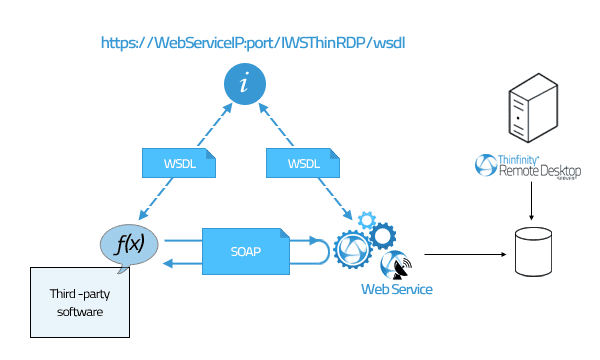 Access Profiles Web Service
The Access Profiles Web Service allows the developer to manage Thinfinity Remote Desktop Server Profiles, and is valid for Thinfinity Remote Desktop Server installations that use Access Profiles as the authentication mode. This Web Service enables external applications to:
Retrieve any information about the configured profiles in Thinfinity Remote Desktop Server.
Create new profiles.
Modify any information of an existing profile.
Delete existing profiles.
The Web Service Transaction Manager enables third-party applications to execute a series of operations as a single unit of work. By using the commit and rollback transaction statements, the Web Service Transaction Manager will guarantee that the series of operations are either jointly executed, or, alternatively, canceled altogether.
Analytics Web Service
The Analytics Web Service allows external applications to access historical data related to  Thinfinity® Remote Desktop Server logins, sessions, connections and used browsers. This will facilitate the acquisition and analysis of information regarding resources consumption, access modalities and device types.
The Thinfinity Web Services includes demos to show how to consume it, and it has its own installation package. Additional information can be obtained by accessing to its reference at the Thinfinity Remote Desktop Server Documentation.
We've prepared an article to show you how to configure the web services for our RDP server.
Have any questions? Contact us at [email protected] or leave a message on this same post.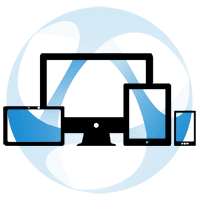 Thinfinity Solutions
As you already know, Thinfinity Remote Desktop is a remote access, desktop delivery, and app publishing solution.
Explore our other remoting and web-enabling solutions, enjoy our free trials, or request a custom demo HERE. No commitment!
We will be happy to assist you and show you our portfolio for remote desktop, screen sharing, digital workspace, and application virtualization.